Project Features
Features that support business growth
SEO was at the heart of this project and has had a massive impact in creating boosted awareness for Scientific Services.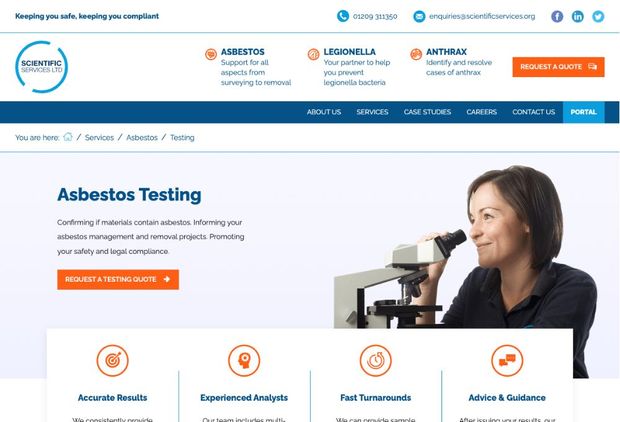 SEO optimised structure using silos
New corporate design
Powerful landing pages
Responsive images for performance
Lazy loading of images
Full AA accessibility features
Easy to use content management system
All amends backed-up to remote repo
Git versioning
Multiple layouts
Training and short-cut guide included
Plus more!
Tim's flexible approach and support has meant that we now have a fantastic website. I wouldn't hesitate to recommend Pendigital's services in the future. Carly Matthews, Scientific Services
1. SEO
As part of my SEO report, we used Moz Pro to identify keywords to target. My report made recommendations on how Scientific Services could achieve high rankings. The recommendations included: siloing and a rich mix of content. Some of the content recommendations included:
Tower landing pages
White papers in a knowledge base
Case studies
News
Video
Galleries
Here's the asbestos landing page demonstrating the tower approach. You will see that there are clear silos of content nested in this layout.
2. Branding
When we discussed branding we recognised that there was a limited palette of colours. What was missing was an accent colour - super-useful for drawing attention to calls to action.
I also introduced a new font with different weights. The different weights allowed us to:
Provide contrast between headlines and paragraphs
To highlight critical words in core headlines
3. Design layouts
The new website has a set of layouts. These include:
The home page
A primary landing page
A secondary landing page
Listing pages for articles
Standard pages
4. Accessibility
The website needed to meet (WCAG) 2 - Level AA Conformance. I implemented the following to achieve this:
Skip to main content
Page menus
Navigable by keyboard
Outline on links
Recognisable anchor links
Text for video content
Breadcrumbs
Semantic html tags
Aria labels
Contrast on colours
Suitable font sizes
5. Content Management System
We decided to use the static site generator Jekyll… you can read about my love of SSGs elsewhere on Pendigital.co.uk. To edit content, we have used the CloudCannon content management system. CloudCannon also includes a global content delivery network via CloudFlare.
In a nutshell, this choice means:
More secure than WordPress
A faster website
No updates needed
Version control through Git
Every change gets backed up to GitHub
All content is in markdown files so is very portable (vs locked away in a MySQL database)
An easy to use content management system
A consistent user interface for editing content. This is unlike WordPress where you often need to edit galleries in separate areas.
6. Training
All our customers get training. We also often provide a short-cut guide on how to use different systems. As we recognise that sometimes there are gaps between editing and know-how gets lost.
7. Read the full 5/5 review here
If you would like to read the full review - head over to here.
Please note, Fort Marketing is a sub-brand of Pendigital.
8. Final Outcome
The website ranks well for all its niche markets and generates quality leads. Scientific Services' ambitious growth plans are being realised. They are super customers to work with and I enjoyed building their website. Thank you for giving me the opportunity to complete this work for you.
Tim Bowerbank, Director, Pendigital